The Bombicile Challenge
Project Overview Bombicile Designs Upload Your Bombicile Data
Placing Your Bombicile The Bombicile Challenge Recommended Resources
The 2016 Bombicile Challenge: Bumble Bee Domicile Design Challenge Rules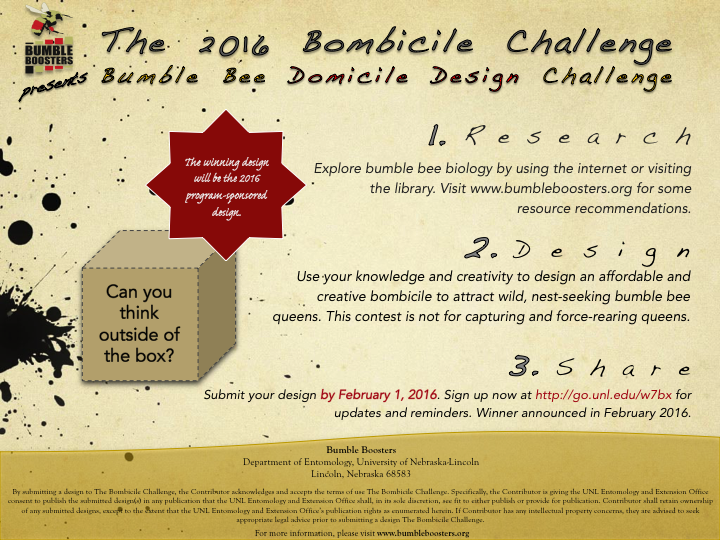 Thank you for your interest in The Bombicile Challenge: Bumble Bee Domicile Design Challenge, sponsored by Bumble Boosters. A 'bombicile' (from 'bumble bee domicile') is an artificially created nest habitat intended to house bumble bees of genus Bombus.
Bumble bees, like many pollinators, face the threats of habitat loss, pollution and disease. For decades, scientists, naturalists, and commercial bumble bee suppliers have attempted to create an artificial bombicile that would consistently attract wild, nest-searching bumble bee queens. Despite many efforts and many designs, most designs have had low success rates.
During the winter of 2013, the Bumble Boosters team at University of Nebraska-Lincoln developed and built a new bombicile design incorporating the best features available from researchers and citizen scientists. Following the first year run of this multi-year program, no bumble bee nests have been reported. Testing of this bombicile design is entering into its second year as research suggests aged bombiciles may be more attractive to nest-seeking queens.
However, we are putting the challenge out to citizen scientists. Scientists have not yet designed a highly successful artificial bombicile. Here at the University of Nebraska-Lincoln, we feel that citizen scientists and bumble bee enthusiasts have a lot of experience and knowledge that will benefit this aspect of bumble bee conservation. Can you think outside the box and make a bombicile fit for a queen?
How Do I Get Involved?
This challenge is open to anyone interested in bumble bees and joining in the effort to improve their conservation. Here are some suggestions as you develop a design:
1. Research: Explore bumble bee biology by searching online or visiting your local library. Go to our 'Recommended Resources' page for suggestions on websites, books and more.
2. Design: Use your knowledge and creativity to design an affordable and creative bombicile design that might attract wild, nest-seeking bumble bee queens. Remember - this challenge is not for capturing and force-rearing bumble bee queens.
3. Share: Submit your design by filling out the online entry form. A link for this form is found below.
Entry Criteria and Requirements
The Bombicile Challenge: Bumble Bee Domicile Design Challenge entrees will be evaluated according to the following seven criteria:
· Design novelty: A design that is unique compared to other entrees and other designs that have been tried in the past will receive.
· Design creativity: Creative use of materials and potential solution to the research problem.
· Design logic: Thought and logic going into each element of the design.
· Relevance to bumble bee biology: The design must be informed by and connected to bumble bee biology and behavior.
· Overall cost: One of the goals of designing a successful artificial domicile is that the general public will be able to use it. The cost to make a design should be affordable. We recommend a per unit cost of $15 or less.
· Ease of construction: The materials and time involved in constructing the design should be feasible.
· Ease of replication: Clear, descriptive and simple instructions must be provided for others to replicate the design.
· Placement feasibility/versatility: Placement of the domicile must be described and feasible.
· Popularity: A voting period will allow Bumble Boosters participants registered on the Bumble Boosters Facebook page to vote on entrees
Entry Requirements and Restrictions
In order for an entry to qualify for the Bombicile Challenge, it must meet the following requirements:
· Entries must be submitted by 11:59 pm CST on Monday,February 1st, 2016.
· Entries must be submitted electronically by completing the Bombicile Challenge online entry form at http://go.unl.edu/ue5y.
· This form will require a photograph (or illustration) of the design and descriptions of how the design meets each of the criteria listed above.
· Only one entry is allowed per individual.
· There is NO entry fee for entering this challenge.
· The design must seek to attract wild nest-seeking bumble bee queens. Designs that require the capture and force-nesting of wild bumble bee queens will not be considered.
· By submitting a design, entrants agree that to the best of their knowledge, their bumble bee domicile design is their own original idea, that they are authorized to enter the design and that their design does not infringe the intellectual property of another.
· By submitting a design, the entrant gives the Bumble Boosters team permission to contact them using the information provided in the online entry form.
· By submitting a design to The Bombicile Challenge, the Contributor acknowledges and accepts the terms of use for The Bombicile Challenge. Specifically, the Contributor is giving UNL's Department of Entomology and Extension Office consent to publish the submitted design(s) in any publication that UNL's Department of Entomology and Extension Office shall, in its sole discretion, see fit to either publish or provide for publication. Contributor shall retain ownership of any submitted designs, except to the extent of UNL's Department of Entomology and Extension Office's publication rights as enumerated herein. If Contributor has any intellectual property concerns, they are advised to seek appropriate legal advice prior to submitting a design to The Bombicile Challenge.
Judging
To select the winning domicile design and select honorable mentions, the Bumble Boosters team is forming a panel of judges represented by bumble bee researchers and scientists. This panel will select the winner from the top 5 designs.
Winner
The winning design will be announced in February. The winning bombicile design will be considered the 2016 Bumble Boosters program-sponsored design. The Bumble Boosters team will encourage replication of your bombicile design by Bumble Boosters program participants.
Prizes
If 5 bombicile submissions are made by the posted deadline, the winner will receive an iPod Shuffle.
If the 2016 Bombicile Challenge post pinned at the top of the Bumble Boosters Facebook page is shared 100 times, all sharers wills be entered into a drawing for a $25 Amazon gift card.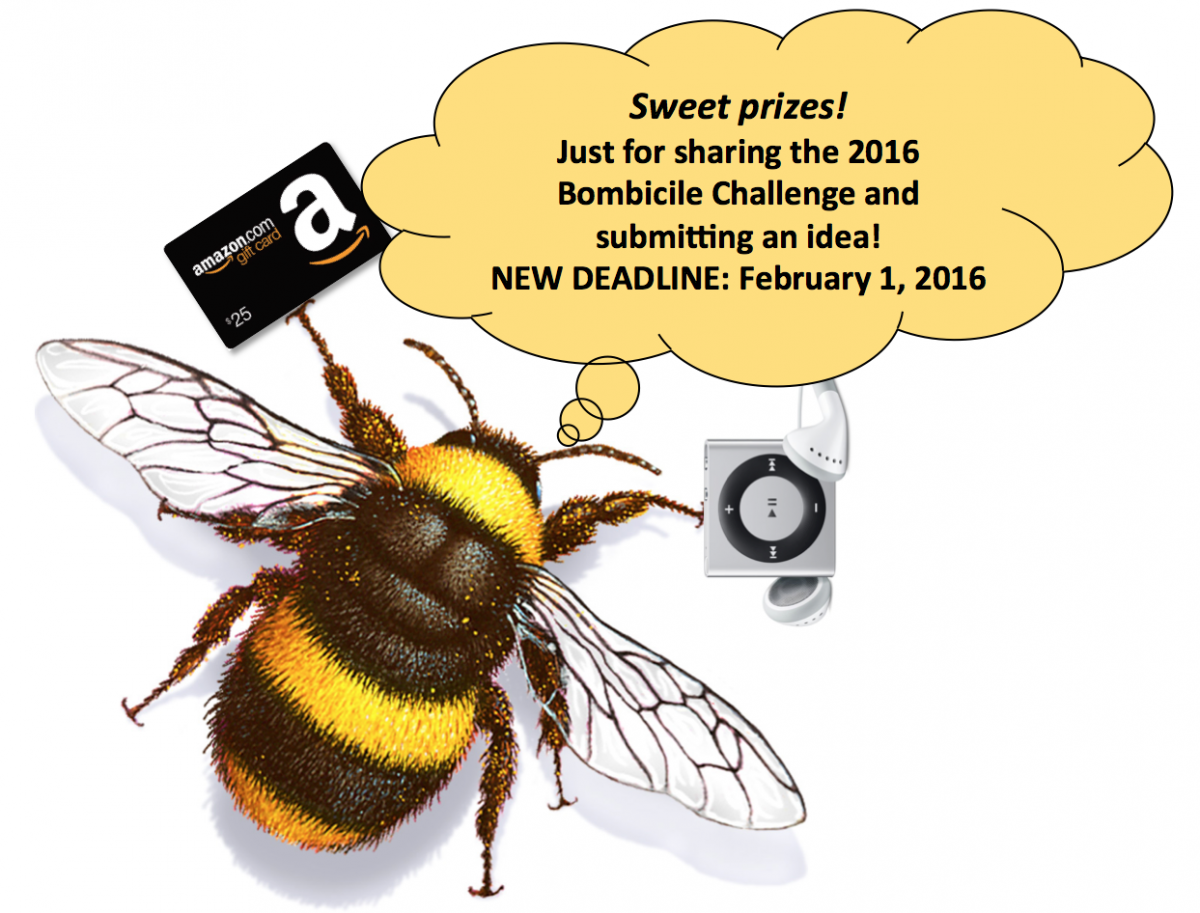 Please feel free to share the 2016 Bombicile Challenge poster with friends and family.