Pheasants Forever Youth Pollinator Habitat Program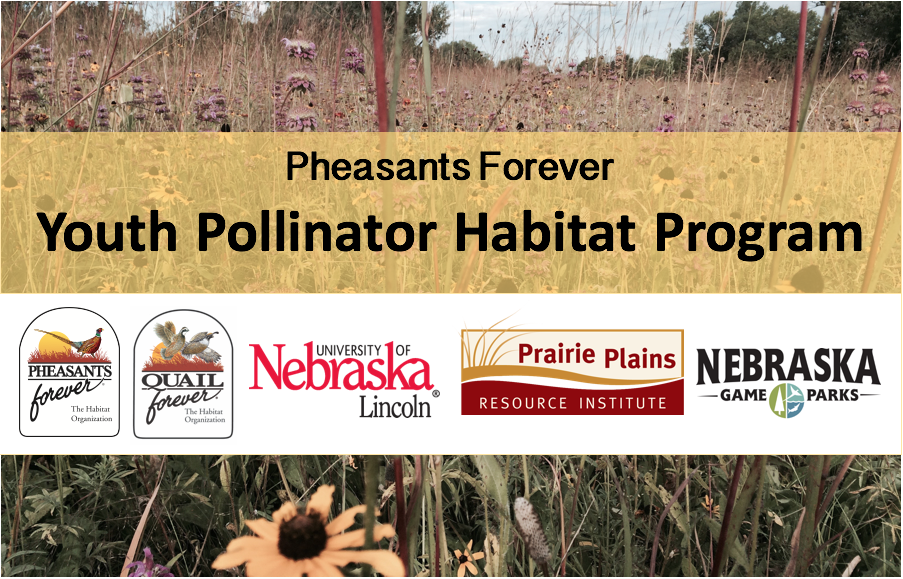 The Pheasants Forever Youth Pollinator Habitat Program is a national program that aims to increase awareness about declining pollinator populations, educate the general public on the importance of pollinator habitat and establish quality pollinator habitat across the country. With support from the Nebraska Environmental Trust, Nebraska Pheasants Forever and Quail Forever chapters have partnered with the University of Nebraska-Lincoln's Department of Entomology, Prairie Plains Resource Institute and Nebraska Game & Parks Commission to provide tools and support for local Pheasants and Quail Forever chapters to create habitat projects that involve local youth, school and community groups.
Citizen Science Research
The Bumble Boosters team is working with Pheasants and Quail Forever citizen scientists to monitor pollinator diversity and abundance in PF/QF Pollinator habitats to determine which solitary bees are present as well as nesting habitat preferences for each bee group using solitary bee nesting habitats, blue vane traps, sweep netting and observations. The public can also assist in the data collection process by visiting and joining the Pheasants Forever Youth Pollinator Habitat Program project on iNaturalist.
There are over 4,000 known bee species in North America. Most of these species are solitary (not social) nesting in the ground, in twigs, or in holes (e.g. woodpecker holes). Most people know honey bees and bumble bees, as they live in colonies and defend their nest if disturbed. Most bee species are solitary and do not defend the nest, so we often don't notice them. Solitary bees, such as orchard mason and squash bees, are excellent fruit and vegetable crop pollinators. They also pollinate non-human food plants that are eaten by insects and other animals.
So little is known about Nebraska's native bees and their nesting preferences. This research will help us learn what bees are found throughout Nebraska and their nest preferences. This research will help design artificial nesting sites to provide nesting locations for bees and to improve bee conservation efforts.
Citizen Scientist Resources
Click here to submit nesting block data
Click here to submit blue vane trap data
Public Monitoring with iNaturalist
Youth Pollinator Habitat Program Partners
farmacia online levitra
is a national program that aims to increase awareness about declining pollinator populations, educate the general public on the importance of pollinator habitat and establish quality pollinator habitat across the country. With support from the Nebraska Environmental Trust, Nebraska